4 Ways To Treat Your Child's Sunburn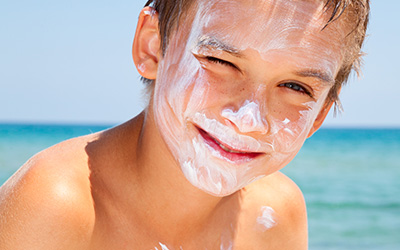 Kids love nothing more than spending lots of time outdoors in the sun, especially during summer vacation. If you forget the sunscreen, even once, you may have a kid with a nasty sunburn. Sunburns are quite painful, but there are ways you can help soothe the pain for your child.
Before we discuss treatment of sunburns, we want to strongly recommend always putting sunscreen on your children, even if they'll only be out in the sun for a short time. Frequent and severe sunburns can increase the likelihood of skin cancer when your children become adults.
Sunburn Treatment For Kids
Cool Shower – After receiving a sunburn, a cool (not cold) shower can be soothing for your child. Avoid letting your child use bars of soap, as these can cause further skin irritation on a sunburn.
Oatmeal Bath – Adding a cup of oatmeal to a bathtub of cool water can cause almost immediate relief from sunburn pain. After the oatmeal has been added to the bath, allow your child to soak for around 20 minutes.
Aloe Vera – Aloe vera gel is great for treating a number of different skin issues, including sunburns. The gel isn't able to heal the burn, but will provide immediate relief, lessening the pain and other symptoms.
Milk – Milk applied to the skin can provide a protective film over the burn, easing the pain and discomfort. To apply the milk to the skin, use a sterile piece of gauze or a cotton ball.
Here at Firestone Pediatric Dentistry & Orthodontics, we want all of our little patients to have a safe summer, free of harmful UV Rays, which can cause burns and discomfort.
For more tips on your child's health – dental & otherwise – or to make an appointment at our Firestone, CO office, please give us a call today.