Why Your Child's Dental Checkups Are So Important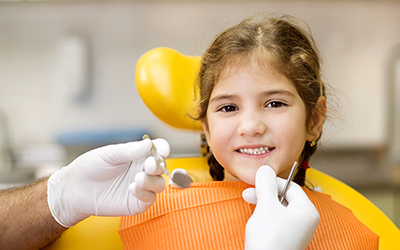 Taking care of your child's teeth and gums aren't only important for his or her smile. It's been proven that good oral hygiene contributes to overall health as well. Gum disease and tooth infections have been linked to diabetes, heart problems, and strokes.
Everyone knows the importance of brushing and flossing daily, but your child should also visit our office every 6 months for a dental cleaning and oral exam.
Importance Of Dental Checkups
Below are 4 important reasons to make sure you're scheduling regular dental appointments for your children:
Maintaining Dental Health – Bringing your child to our office for regular checkups will allow us to keep track of his or her oral health, and build a rapport with your child. Visiting the dentist for routine appointments can help your child feel more comfortable in our office.
Achieving a Healthy Smile – If your child is having trouble caring for his or her teeth, a thorough cleaning and exam can help remedy the problem. When we can get the mouth to a clean and healthy place, it will be much easier for your child to maintain.
Early Detection Of Problems – Your child's 6-month exams allows our office to compare X-rays and other tests to previous ones. This will help us detect any potential changes or problems early on, when they may be easier and less expensive to treat.
Gum Disease Prevention – If plaque and tartar are allowed to build up on the gums without being treated by a dentist, it could lead to gum disease. If gum disease isn't treated promptly, it can result in the eventual loss of your child's teeth.
Not only is good oral hygiene important for your child's dental health, but it also sets a foundation that your child will rely upon for the rest of his or her life. Showing them the importance of their dental health will help solidify good habits in the future.
To make an appointment for your child to receive a dental cleaning and exam, please contact Firestone Pediatric Dentistry & Orthodontics today. Our office is located in Firestone, CO.