Can Cavities Spread?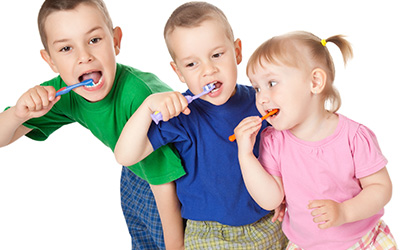 It may surprise you to learn that cavities can be "contagious." We have many parents in our office who are surprised to learn that their child has a cavity, even though he or she may have a great oral hygiene routine. But even the best dental care may still fail if you're sharing the bacteria that can cause cavities and decay.
Cavities are caused by a certain kind of bacteria (mutans streptococcus). This kind of bacteria love to feed on sugar leftover on your teeth and, as they feed, they create acid, which eats away at your enamel. When these bacteria are allowed to build up, they'll create plaque, which is full of even more enamel-damaging acid.
This means that, instead of your child inheriting bad teeth, you may just be passing along the bacteria that can cause cavities. In fact, it's been found that as many as 80% of dental cavities are found in the teeth of only 25-30% of children.
How To Stop Sharing Bacteria
If your family is one of the many who has a tendency to share bacteria, there are ways you can stop it:
Don't Share Utensils
Don't Share Toothbrushes
Don't Share Pacifiers
Set A Good Example
For more tips on how to keep your child's mouth free of cavities, or to make an appointment for your child to receive a dental cleaning and exam, please contact Firestone Pediatric Dentistry & Orthodontics. Our pediatric dentist office is located in Firestone, Colorado.