Infant Tooth & Gum Care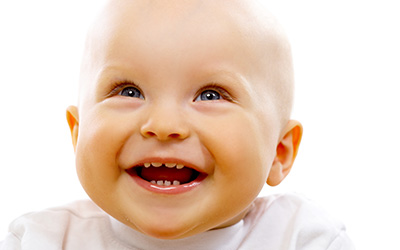 Baby teeth are temporary and only spend around 6-8 years in your child's mouth. However, this doesn't mean they aren't very important. Not only will baby teeth serve as a placeholder for adult teeth, taking good care of them will also set the foundation for good oral hygiene for the rest of your child's life.
Infant Tooth & Gum Care
You can begin caring for your baby's mouth before he or she even has teeth. Wipe excess milk and baby food off of the gums with a warm, damp cloth wrapped around your finger. This is because bacteria and plaque can build up on the gums in the same way they can build up on the teeth.
Once your child begins to teethe, you should care for the erupting teeth as soon as they emerge. If these vulnerable baby teeth aren't properly cared for, they can form tooth decay, which can cause dental cavities and gum disease. Damage done to these baby teeth early on may cause spacing issues when permanent teeth erupt.
Getting your child used to having a toothbrush in his or her mouth early on will help to prevent brushing related tantrums in the future. In addition to brushing your child's teeth twice a day, you should also be helping him or her to rinse with water following meals. You should make sure your child knows the importance of dental hygiene early on to build a solid foundation for the future.
Children should begin to visit the dentist by their first birthday or by the eruption of their first teeth. To make an appointment for your child to receive his or her first dental checkup, please contact Firestone Pediatric Dentistry and Orthodontics, located in Firestone, CO.