Time For a Back-To-School Dental Checkup!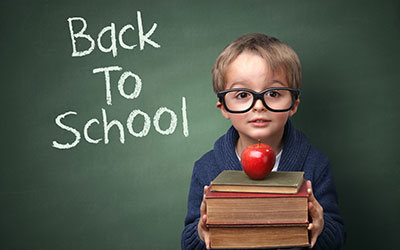 Summer is coming to an end, and families all over the nation are preparing to send their kids back to school! This often includes new backpacks, wardrobes, school supplies, and even haircuts. But did you know that over 51 million school hours each year are missed due to dental problems? This means you may want to add a back-to-school dental exam to your to-do list.
Dental cavities and tooth decay are the number one health issue for school aged children. At-home oral hygiene routines are a great way to combat these issues, but making sure to schedule regular dental cleanings and exams for your kids is equally important.
Why Get a Back-To-School Dental Checkup?
Below are a few reasons why you should schedule your child's dental cleaning and exam before school begins:
Avoid unnecessary absences – As stated above, 51 million school days are lost to dental problems each year. Don't let your child become a statistic! Scheduling a dental cleaning and exam before the school year starts will allow your child to start the year off with a clean and healthy smile.
Improve your child's overall health – Dental cavities and tooth decay are problems for your child's oral health, but did you know that they could also impact his or her overall health as well? In fact, severe cases of decay have been linked with bacterial infections and malnutrition in children.
Detect potential problems early – Not only will early detection of dental problems mean less pain for your child, it often means less costly dental treatments as well. An exam performed during your child's regular checkups can catch these issues before you even know there's a problem.
Reinforce your child's at-home routine – Children are often so pleased with a clean bill of dental health that they'll have more enthusiasm when it comes to their at-home oral hygiene routine. This is because they realize all their hard work has paid off!
Here at Firestone Pediatric Dentistry & Orthodontics, we want to send all of our patients to school with healthy, beautiful smiles that they can be proud of! To make an appointment for your child's dental cleaning and exam today, please contact our Firestone, Colorado pediatric dentist's office.